On September 21, 2019, Mr. You Xihuo, Chairman of Beijing Agrichina Pharmaceutical Co., Ltd. visited the Kyrgyz National Agricultural University. Mr. You Xihuo and Mr. IRGASHEV Almazbek Sh. Who is vice President of Kyrgyz National Agricultural University  conducted in-depth exchanges on the international cooperation research on echinococcosis. They respectively introduced the work and achievements in the prevention and control of echinococcosis in their respective countries, and signed an international research cooperation agreement on echinococcosis. The two sides will work together to study the prevention and control model of hydatidosis suitable for Kyrgyzstan, including personnel training, technical exchange, joint application for international cooperative research projects, etc.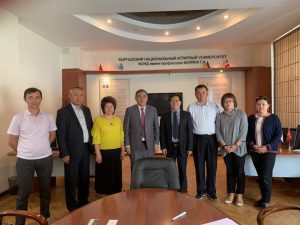 Kyrgyz National Agricultural University was established in 1933. It is a diversified national higher education institution in the agricultural field. It is also one of the oldest colleges and universities in Kyrgyzstan and enjoys a high reputation in Kyrgyzstan. The school has trained more than 50,000 professionals over the years.They work in different agricultural industry departments in the country and have made great contributions to the development of the country.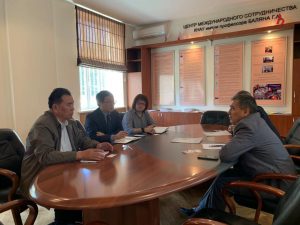 Beijing Agrichina Pharmaceutical CO.,ltd was established in1998,specializing in the prevention and control of parasitic diseases. Since its establishment, the company has carried out research on the prevention and control methods of hydatidosis and schistosomiasis. Our company carries out international R & D cooperation with a number of scientific research institutes and universities at home and abroad. Including Hokkaido University of Japan, Tottori University of Japan, University of Queensland, Australia, Melbourne University of Australia, Mongolian National Agricultural University, etc. Our company is committed to sharing the latest research and development results to areas with high incidence of echinococcosis and addressing local public health issues.